Academic Standards
What We Offer
A quality education with developmentally appropriate hands-on, active learning curriculum.

A caring, well-qualified and dedicated staff

Christian values both modeled and taught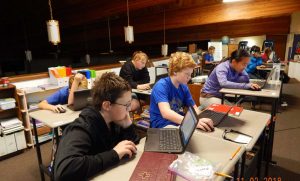 Our Philosophy
Here at Hope Lutheran School, we are committed to creating a nurturing, welcoming, safe, and Christ-centered environment for each child. This fosters high self-esteem and inquisitive learning, allowing each child to flourish spiritually and academically. Each child is unique – a special gift from God to be cared for, loved and nurtured. We believe children should grow and learn while having fun! By providing a caring Christian community, we create an atmosphere that is optimal for a child's early education.
Hope Lutheran Preschool focuses on the child. We believe that children learn best through their own discoveries, active co-operative learning, experiment questioning, sharing, speaking, and listening.
As teachers, our role is to make the children's activities as fun and interesting as possible, and then guide the children through these activities – not dictate them. Also, through our everyday actions we will be serving as constant Christian role models to the children.
---
Early Childhood
Hope believes development takes place throughout the child's day. It doesn't matter if the child is at Pre-School/Pre-K or at home, every moment of the day has a purpose. This class is designed to offer children the academic and biblical foundations needed to be a successful learner. Children will learn through structured activities, classroom projects, and self-regulated play with peers. We strive to foster and encourage each child's natural progression of development, while exposing them to a language-rich environment in the areas of fine motor activities, gross motor activities, art, dramatic play, bible stories, music and social interactions.
When ready, children will be introduced to academic concepts such as counting, letter, numbers and writing. We want our students to begin to cultivate a love of learning at an early age. Our language-rich environment supports all learners by stating and demonstrating the expectations for classroom behavior and introducing concepts that will lay the foundation for their school experience.
Elementary School
Hope Lutheran School provides the secure, nurturing environment that elementary school-age children need to explore and experiment. Our Christian-based programs strive to instill a life-long love of learning and a quest for knowledge among elementary school students Kindergarten through 6th grade.
Our reading program uses sight words, contextual clues, and phonics. The goal of our math program is to develop a solid foundation through hands-on experiences and discussion. Students learn to excel in solving problems, engaging ideas and creating solutions. Our students become active thinkers, makers and explorers of ideas. They accomplish this through academic skill development, imaginative abstract thinking and organization and discipline.
Students are taught in self-contained classrooms with some departmentalization. Students annually celebrate a variety of traditional and special events, such as experiencing Yellowstone National Park or Camp Perkins during the winter months. Parents are always welcome to participate in class activities.