30th Annual Hope Lutheran School Dinner and Auction
The 30th Annual Hope Lutheran School Dinner and Auction will be held at the WestBank , 525 River Pkwy, Idaho Falls, ID 83402, in Idaho Falls, ID on Saturday evening, April 13, 2024. We are excited for this annual fundraiser. Proceeds from this event will go towards our Mission and Vision, which will provide vital financial support for the ongoing expansion of our school, ensuring our continued ability to serve the Eastern Idaho Community.
Hope Lutheran School has partnered with families in the greater Idaho Falls area for over 60 years. Our success has been possible through the contributions, generosity, and continued support of individual donors and our local businesses. We are committed to providing a quality, classical Christian education for children ranging in age from 3 years old through 8th grade.
The Annual Dinner and Auction is our school's major annual fundraiser in which donated items are auctioned (live, silent and raffle) and event sponsorships sold to raise funds for our school. Please consider donating an auction item, gift certificate, services, or a gift basket. Recognition for your contribution will be made the evening of the event: in our written program and next to your donated item. A special thank you ad recognizing all the businesses that supported our auction will be placed in our local newspaper following the event. Cash donations are also welcome.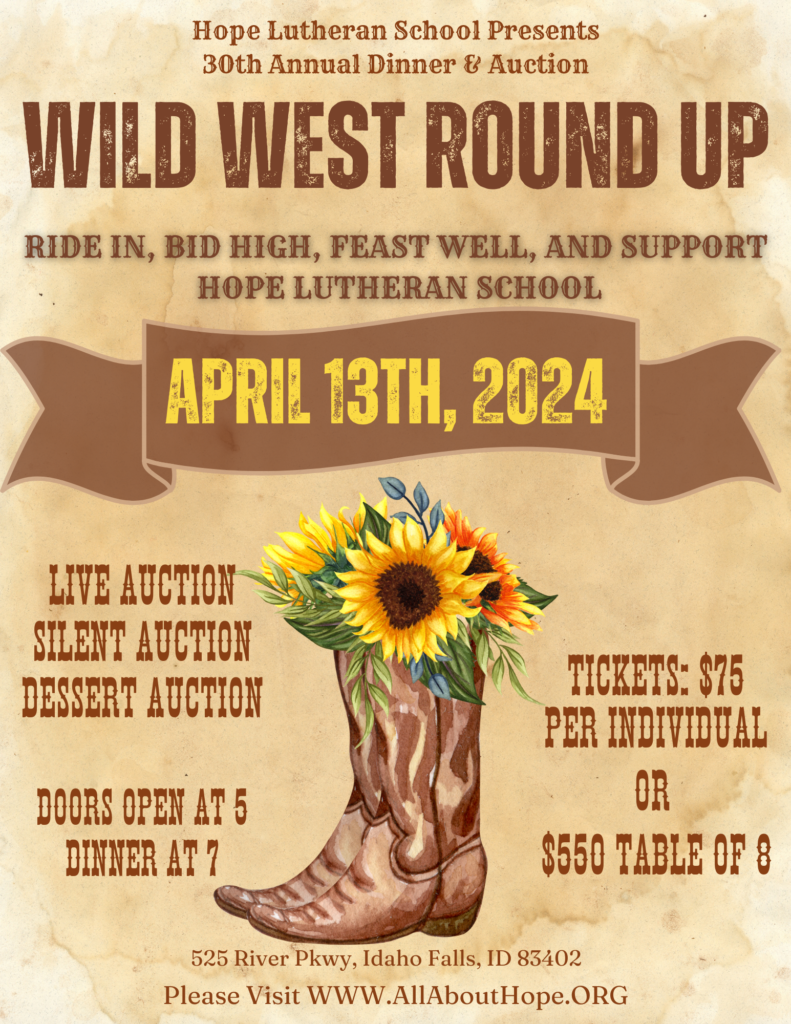 Please call Hope Lutheran School, 208-529-8080, with questions about donating to our event. Additional information will be added to this webpage in the next few weeks.