Pre-Kindergarten Program
Mrs. Shawnee McKinnon is the lead early childhood teacher here at Hope Lutheran. She has a Bachelor's Degree in Early Childhood Development and has been working with young children for several years. She is very passionate about the education of young children and she works hard to provide the children she serves with the best start to their academic career that she possibly can. Her curriculum is very hands-on, play-based, and centered around children gaining the social and emotional skills necessary to be successful throughout their life.
In her spare time she loves to be outside, especially in the warmer months. She loves camping, kayaking, hiking and fishing, especially with her family.
Our Pre-Kindergarten program is open to children aged 4 by September 1. Our program is designed to prepare your child for our rigorous Full-Day Kindergarten program.
This school year, Preschool and Pre-Kindergarten classes will be combined.
---
Pre-Kindergarten Program Details
Program Requirements
Claps, sings, and can move to rhythm
Participates in our Early Childhood Christmas program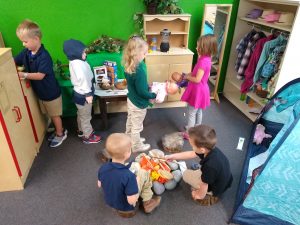 Program Hours
4 Day Morning: Monday – Thursday
8 a.m. – 11 a.m.
4 Day Full: Monday – Thursday
8 a.m. – 4:05 p.m.
We also offer an Expanded Academic Track that may work better with your schedule from 4:05 p.m. to 5:30 p.m. Our Expanded Academic Track allows your student to spend more time with a qualified teacher. Parents may choose to opt-in to the Extended Track each trimester.
---
Readiness Skills Developed in Pre-Kindergarten Program
Bible Time
Bible stories showing God's love for us
Daily prayer
Show forgiveness to others
Shows kindness and caring for others
Recalls basic bible stories
Work Readiness
Listens attentively
Follows directions
Uses materials correctly
Completes activities and values his/her work
Visual and Motor Skills
Can work with puzzle pieces
Can throw and catch
Can hop/skip/jump
Can balance on one foot
Can move creatively
Can use toys/equipment safely
Holds crayons and markers correctly
Math Readiness
Recognizes their numbers
Counting
Sorting sizes, shapes, colors
Stacking blocks
Uses position words correctly
Social and Emotional Skills
Plays well with others
Follows rules
Shows respect for people and objects
Willing to help with cleanup and other chores
Participates in activities
Takes turns
Can be independent
Adjusts to small changes given advance warning
Can sit and listen for short times
Can express feelings
Shows confidence
Reading and Language Readiness
Likes to look at books and pictures
Can put pictures into sequence
Recognizes basic words
Recognizes upper and lower case ABCs
Recognizes letter sounds
Recognizes his/her name as well as others in the class
Music
Claps, sings, and can move to rhythm
Participates in our Early Childhood Christmas program