Pre-School Program
The Pre-School curriculum at Hope Lutheran is a mix of organized learning activities, constructive play, crafts, and physical activity. Your child is sure to grow in our enriching environment. This class is taught by Mrs. Shannon Harmston, and is open to fully potty-trained students who will be 3-years-old by September 1.
Shannon is currently working on her bachelor's degree with an emphasis in Child Development. She has been working with and teaching children of all ages for almost a decade. What makes Shannon's class special is her view on Intentional Teaching, combined with her love of bringing "real-life" experiences to her classroom. While students are learning about different subjects, she invites working professionals from the community to demonstrate their skills and share their knowledge. For example, a fireman might visit while the children are learning about fire safety, a baker when learning about cooking, or a police officer when learning about obeying the law. Shannon is also trained and certified in Culinary Arts. She shares her variety of skills with the children in different cooking activities in the classroom, from learning how to pick and wash vegetables to baking muffins.
In her spare time, she loves to read fiction and play games. She also loves to be outside as much as she can when the weather is nice in the summer. One of her favorite activities is to float down the local rivers.
---
Pre-School Program Details
Program Requirements
3 years old by September 1
Completely potty-trained
Milk provided daily, snack is rotated among the parents of the class.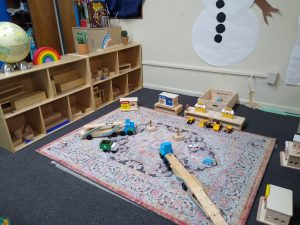 Program Hours
2 Day Morning: Tuesday and Thursday
8 a.m. – 11 a.m.
3 Day Morning: Monday, Wednesday, Friday
8 a.m. – 11 a.m.
4 Day Morning: Monday – Thursday
8 a.m. – 11 a.m.
4 Day Full: Monday – Thursday
8 a.m. – 4:05 p.m.
We also offer an Expanded Academic Track that may work better with your schedule from 4:05 p.m. to 5:30 p.m. Our Expanded Academic Track allows your student to spend more time with a qualified teacher. Parents may choose to opt-in to the Extended Track each trimester.
---
Readiness Skills Developed in the Pre-School Program
Bible Study
Bible stories showing God's love for us
Daily prayer
Is able to show forgiveness to others
Shows kindness and caring for others
Work Readiness
Listens attentively
Follows directions
Uses materials correctly
Completes activities and values his/her work
Reading and Language Readiness
Listens attentively
Follows directions
Uses materials correctly
Completes activities and values his/her work
Math Readiness
Recognizes their numbers
Counting
Sorting sizes, shapes, colors
Stacking blocks
Uses position words correctly
Music
Claps, sings, and can move to rhythm
Participates in our Early Childhood Christmas program
Social and Emotional Skills
Plays well with others
Follows rules
Shows respect for people and objects
Willingness to help with cleanup and other chores
Participates in activities
Takes turns
Can be independent
Adjusts to small changes given advance warning
Can sit and listen for short times
Can express feelings
Displays self-control
Visual and Motor Skills
Can work with puzzle pieces
Can throw and catch
Can hop/skip/jump
Can balance on one foot
Can move creatively
Can use toys/equipment safely
Holds crayons and markers correctly
Can balance on one foot
Uses glue appropriately
Can use scissors
Can zip/button